Combo Kits
Speedy Sprouters
Grow sprouts in no time and enjoy the taste of fresh food grown in a sustainable way indoors. The Speedy Sprouter grows sprouts so quickly that you can see the change in growth with each passing day. It's a great way to produce a large amount of food in a small amount of time while doubling up as a teaching tool to educate children on how to grow food!
How does it work?
The embodied energy in a seed provides it with enough oomph to get it sprouting and putting out roots. This means that you can grow leaf/sprout mass without using any soil or nutrients at all! Sprouts typically grow for up to two weeks before they run out of energy and their growth start slowing, but you can typically eat them from the 1 week mark onwards!
Benefits

Can be used repeatedly

Easy to use

Fast growth time for sprouts

Sprouts are highly nutritious

Versatile vegetables that can be used in a variety of dishes

A fun experiment for kids to learn how things grow

Incredibly short farm to table time

Details

Single Jar

Twin Pack

Seeds Kit

1x Wide mouth mesh strainer,

1x 1L glass jar

1x White drainage stand.

1x Instructions

2x Wide mouth mesh strainer,

2x 1L glass jar

2x White drainage stand.

1x Instructions

 

Your choice of seeds

1x 100g Salad Pea Seeds
1x 25g Alfalfa Seeds
1x 25g Red Cabbage sprout seeds
1x 25g Fenugreek Seeds




Growing instructions

Add seeds to your Speedy Sprouter
Rinse your new seeds in water to clean them
Drain water out
Submerse seeds in warm water at a 1:4 ratio of seeds to water
Let your seeds soak overnight
Turn your Speedy Sprouter upside down and allow it to drain for 8 hours in a cool shaded place 
Rinse your seeds and drain again for another 8 hours (Note: if you want to consume your sprouts raw, rinse them more often, for example every 6 hours.)
Repeat step 7 until your sprouts have grown to an adequate size
Sprouts can be placed in sunlight on their final day of growth to develop their flavour and provide a richer, greener colour.

Note: Only use seeds that have not been chemically treated (all our sprout seeds are not chemically treated), always stop the sprouting process before the first set of leaves grow, some sprouts need to be cooked before eating. Check seed pages for seed-specific instructions before growing.


For more details on how to grow your sprouts safely check out this blog post: "6 Simple Steps to Keep Your Sprouts Healthy"
Customer Reviews
Write a Review
Ask a Question
16/10/2021
Tahlya M.

Australia
So easy to use
I've never grown sprouts before, so I did a small test with the pea seeds. They grew so quickly! The kit and instructions are so easy to follow! If you're worried about bacterial growth, you can buy some apple cider vinegar from the shops and do a single rinse with it before rinsing with water before you eat.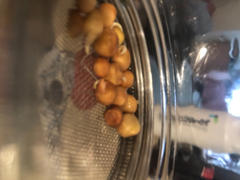 12/10/2021
Sharon H.

Australia
Seed soriters
Sorouters are great . Practical and an attractive addition to the kitchen .
06/10/2021
Lana K.

Australia
Speedy Sprouters
Excelled product. Packed well. Fast delivery
04/10/2021
Kate W.

Australia
Perfect, just what I needed!
I love my seed sprouters. So easy and exactly what I was after.
04/10/2021
Kaylah

Australia
Love it!
Never have to buy sprouts again! Love watching them grow highly recommend!